Mitigate Innovation Risks Through Research
Risk comes from launching digital tools without truly understanding the users and the reality of their work. User research mitigates such risks and delivers effective solutions with high ROI.
We don't rely on educated guesses.
We form smart hypotheses of how digital products will empower your users and spur your enterprise goals.
We formulate user-centric task flows and map robust interactive experiences, uncovering the pain-points along with the points of delight.
We rigorously test our ideas and measure the impact of our hypotheses before we write a single line of code.
We observe and listen to ensure the efficacy of any solution before implementation.
Cost of Requirement Correction
When enterprises don't incorporate users into digital development processes, important design elements are left out or forgotten. Those missing elements compound your costs and require more investment as you course correct.
We catch user requirements early on in the process: saving your investment by doing it right the first time. Every stage generates a ten-fold increase in the cost to make changes.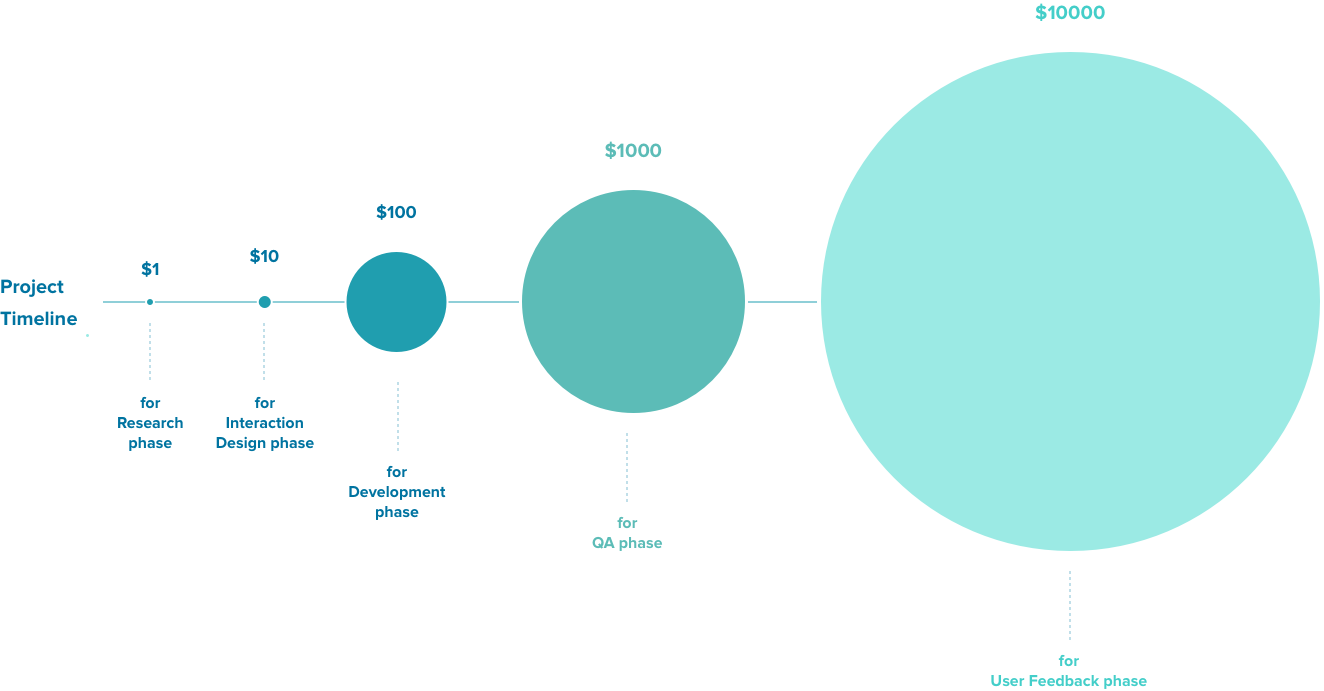 Our approach empowers you with the data-driven insights and ROI goals to drive your product's next release.
Requirements Gathering
For our UX researchers, we employ qualitative and quantitative methodologies to go deep into your users' behaviors and needs, pulling the relevant data points that deliver real ROI.
In Situ Observation
We discover the problems you don't know you need to solve. Conducting user interviews with managers or relying on a process diagram is not enough. To truly understand users, we go out to the field, mapping the flow of work, measuring time on task, identifying friction points, and more. Skipping these crucial steps leads to poor user adoption.
Validating Information
Your digital products are never finished. Successful tools are those that evolve through rapid, iterative releases—especially as technology continuously improves and meshes into peoples' lives. It's up to us to set you up for success—watching out for what users need. We ensure their experience is elevated and their needs are met without failure or friction.
Improving the Experience
We map the ideal user experience of the digital application—resolving pain points, alleviating redundancies, reducing inefficiencies—to elevate the functionality and usability of the digital interface.
We have years of experience working with Fortune 500 companies on user experience led digital strategy, and the results to show for it. By integrating user-centered design practice with agile development, our approach guarantees real business ROI.
Content Management Strategy and Analysis
Mobile Maturity Assessment
Product Conception and Ideation

HTX
9 Greenway Plaza, Suite 850
Houston, TX 77056