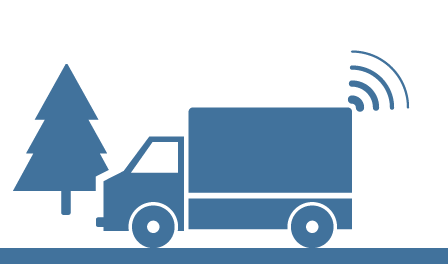 There is a lot of information available on supply chain costs, its cost elements, and ways to save costs. We are not going to reiterate what has already been said but will focus comments on the cost of transportation as it is one of the largest components of supply chain management. A recent peer-review survey concluded that transportation spend can be as high as 10% for some companies. The same survey also concluded that more and more companies are realizing this as an important focus area necessary to reduce overall supply chain costs. So, what are the different cost components of transportation and how can one go about reducing those costs?
Transportation Cost Elements
Let's start by looking at primary cost components. Irrespective of the mode of transportation, transportation cost elements include;
Line Haul Rate
Fuel Surcharge
Accessorial Charges
The last of the three, Accessorial Charges, can include a plethora of charges. Some of the charges are voluntary and unavoidable in most case e.g. Weighing, Tolls, Required Dual Drivers, etc. However, some are involuntary charges and, in most cases, can be avoided e.g. Detention, TONU (Truck Ordered, Not Used), etc. There are ways and means to prevent some of these charges, and we will talk about some of those in this article. But before that, let's talk about some hidden charges that really drive the total cost of transportation up. The reason these are sort of hidden is that these charges are not mentioned in the carrier contract, not categorized as one of the three buckets mentioned above, and are not for any specific services. So, what are these costs?
Hidden Costs: Before we talk about these costs, we want to draw a parallel to Quality Costs. If you ask someone a question - What are quality costs? - more than likely the answer you will get will be - efforts (time and cost) spent in making a product or service conform to the required quality. Even though that sounds correct, it is not. The correct definition of Quality Costs is - Cost of not doing things right the first time. And this is the reason we wanted to draw a comparison between Unknown Transportation Costs and Quality Costs. Hidden Transportation Costs have the same characteristics as Quality Costs. They are a result of not doing things right the first time. With that let's dive into some of these costs.
Collaboration Cost: Every shipment, irrespective of mode, has several different stakeholders like a shipper, consignee, carrier, broker, driver, etc. This makes it very important that everybody is on the same page. Not having an easy way to get the shipment information can require a lot of manual work like phone calls, emails, etc., and this can be very time consuming and hence costly. Companies also need to keep track of involved parties for every shipment manually (even if they are kept in spreadsheets, we all know how difficult it is to keep those updated).
Visibility Cost: FedEx founder Fred Smith is famous for saying, "The information about the package is as important as the package itself. Most companies don't realize that and end up spending a lot of time chasing carriers and drivers to get the shipment information along the shipment's lifecycle.
Freight Audit Cost: Freight audit is undoubtedly the most complicated and time-consuming process of the entire shipment lifecycle. Some of the larger companies tend to outsource these process steps to third-party companies altogether. A Freight Audit process involves close examination of freight invoices for accuracy by comparing against the carrier contract and any other supporting documentation that comes with the freight invoice. In case of errors, the shipper or their chosen freight audit and payment company would reach out to the carrier to ensure that it is correct and a new invoice is issued. This can often lead to an almost unending back and forth with the carrier, making it a laborious and expensive process.
Compliance Cost: Certain shipments require specific loading, unloading, and/or handling procedure. There are also shipments that need to be accompanied by proper documentation when transporting. A prime example of this is HazMat cargo that requires it to be packed, handled and shipped a certain way. Certain classes of HazMat cannot be combined when shipping. Trucks carrying certain classes of HazMat need to have a plaque informing others of it. Trucks also need to carry appropriate documentation when transporting HazMat. Any lax in any of these procedures can cost a ton of money in fines and penalties.
Using Technology to Save Costs
A recent survey conducted by Gartner concluded that 42% of organizations surveyed will be investing in transportation over the next two years to support digital business capabilities. Low capacity and high transportation costs are leading companies to turn towards technology for lowering costs, increasing productivity, and improving performance.
Using technology, manual processes are digitized, which means more automation and less paperwork, which dramatically reduces the time companies spend on each shipment and human error, which positively impacts companies' bottom line. The use of technology allows companies to implement the measure twice cut once philosophy to plan better saving them time and money. Digitization means companies can benefit from a reduction in data redundancy. Digitized data is easy to share and report on, savings companies countless hours spent in manual work involved in creating business reports. Companies can automate complex workflows thereby reducing manual labor.
Modern technologies like GPS, SIM tracking, etc., can allow companies and their customers and partners to track and trace shipments in real-time. Using technology makes it easy for all the parties involved in a shipment to collaborate, and avoid costly mistakes caused by not getting timely and accurate information. Being able to collaborate and be on the same page is a great way to increase customer satisfaction. Companies can make technology help them stay compliant by building automated checks and balances. Technology can allow companies to be environmentally friendly and reduce their carbon footprint.
To compete and scale while retaining talent and staying environmentally friendly, companies need to embrace technology.
Written By: Idris Gagan
About ChaiOne Corporation
ChaiOne is a pioneer in industrial digitalization. Reimagining plant, field, supply chain processes with design thinking led solutions that reduce cost, increase adoption and elevate the customer experience. The complete strategy-to-solution expertise sets ChaiOne apart to help industrial customers achieve exponential outcomes across their logistics, supply chain, field, and plant operations. To learn more, please visit www.chaione.com.