A few weeks ago, Microsoft unveiled a more complete version of Windows 10 to the world, showing how the company intends on advancing the next version of its operating system. Windows 10 attempts to fully unify Microsoft's vision of computing on a single platform with a single development and app story for its consumer, business, and enterprise customers.

New in Windows 10 is a return to a more classic Windows 7-style start menu, with a list of recent programs on the side combined with modern enhancements like live tiles from Windows 8. This start menu takes up only a portion of the the screen, leaving apps that are currently running still in view. The start menu can be made full screen for users who prefer the Windows 8-style with a single click, so all users have a choice of their preferred style. In addition, the jarring transitions that come from opening a Metro app are gone as "Universal" apps now run in windows on Windows 10 as well. Microsoft is aiming for a stronger push in the development of "Universal" apps, which can run on phones, tablets, laptops, and desktops, simplifying development and reducing costs of custom applications deployed to businesses plus all of the additional performance and security enhancements introduced in Windows 8.

Microsoft has made a new addition to Windows 10 with "Cortana", a Siri-like personal digital assistant which learns your habits and preferences to surface relevant information to you at the appropriate time. Combined with OneDrive and OneDrive for Business, Cortana will remember and bring up recent searches for personal and corporate documents, calendar appointments, pictures, specific news topics, and more.

Action Center is another important addition to Windows 10, borrowing the concept that has existed in mobile devices for years. Notifications from applications like Outlook and Skype would remain in the Action Center with a time stamp indicating when they arrived, so if you step away from your computer, you know exactly what happened while you were away. Notifications are not just informational only. Many provide the ability to interact with a notification like quickly replying to a message. Small feature enhancements such as these end up saving businesses the most time due to how often we take actions like replying to email in a modern work day.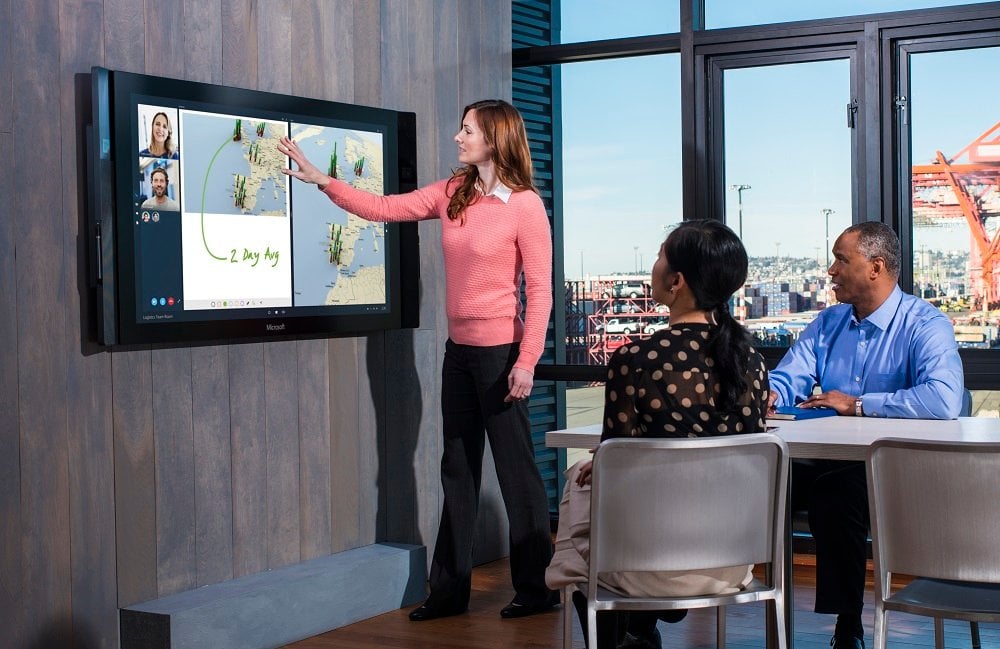 Another exciting business product from Microsoft was Surface Hub. Surface Hub is a 55" or 84" 4K multi-touch conferencing system designed to increase productivity of meetings between various team members. Surface Hub has full access to all of your corporate documents and a full web browser to search the web for more info. Built on Windows 10, it aims to be a modern whiteboard useful during presentations with stylus support for annotations that can be marked up and sent to meeting participants with ease. Surface Hub will be available later this year soon after the launch of Windows 10.

Perhaps the most interesting announcement made at the recent Microsoft event was "HoloLens", an interactive augmented-reality headset designed to show how context-specific information could help a person at work and at home. The glasses project images on lenses in front of your face, which overlay your current view (so while they add information, they do not block your vision).
Microsoft had a variety of sample applications that were both shown and demoed by the press, ranging from gaming experiences with Minecraft, 3D CAD sculpting, interactive voice chat with Skype, and navigating the Mars Rover by scientists at JPL. HoloLens aims to show that Microsoft continues to put heavy R&D into new kinds of products that will enhance our lives.
Finally, last Monday, Microsoft also announced that the brand new Raspberry Pi 2 would also be getting Windows 10 support. Raspberry Pis have commonly been used in the past for members of the Maker community, but it demonstrates Microsoft's commitment to the rapidly growing Internet-of-Things (IoT) space. These devices aim to increase efficiency and reduce costs to businesses by providing more data to administrators for queries both simple and complex. With a small $35 computer, users will be able to use all of the same Visual Studio dev tools they currently have to make apps that control light switches and fans today, but major infrastructure elements like industrial operations equipment tomorrow. Gartner estimates that 5 billion IoT devices will be in use by the end of 2015, with that number jumping up to 25 billion by the year 2020. It is very clear that Microsoft plans on leveraging Windows 10 as a platform to support this new category of devices.
Reaction to all of these announcements has been positive and shows that Microsoft is indeed committed to advancing productivity of both general consumers and business workers through new and innovative products. Windows 10 is shaping out to be an exciting release and will serve as a strong basis of all Microsoft products in the future.