As enterprises shift from a pre-digital to a post-digital world, the need to implement and execute effective digital products is growing.
In fact, by 2019, worldwide spending on enterprise application software is expected to be more than $201 billion, according to Gartner.
Unfortunately, many digital products fail or are ineffective for the user. Hartson and Pyla, authors of The UX Book: Process and Guidelines for Ensuring a Quality User Experience, estimate 25 percent of software development efforts fail outright and 60 percent produce substandard or ineffective products.
At the enterprise-level, the failure of a digital product results in decreased efficiency, budgetary impacts, and often times deflated confidence in digital solutions among executive leadership.
While a variety of factors contribute to product failure, the following examples highlight some of the more common causes:
Inability to translate the precise needs of the user to the digital solution
Disconnect between the complex nature of enterprise challenges and the technology needs to solve those challenges
Not fully considering unique business or workflow dynamics
Lack of quality
To mitigate these and other product failure factors, companies must depend not only on their product development process, but also on the cross-disciplinary collaborations among leaders on the project.
Quality Digital Products Require a Core Team
At the heart of every successful digital solution is a core team of people who own the success of that product throughout its lifespan.
For enterprise projects especially — which have unique and often complex variables — product development teams require multiple stakeholders working across multiple disciplines to deliver a truly successful project. While its customary for each distinct discipline (e.g., research, design, engineering, project management) to own their own portion of a project, the ideal scenario is for leaders from each discipline to have visibility and input across the entire product development cycle. This can be achieved by creating a multidisciplinary core team.
With a multidisciplinary core team in place — collaborative opportunities are either organically or systematically created to identify roadblocks, recognize technology constraints, and keep important business objectives for a digital product firmly in focus throughout the entirety of a project.
At ChaiOne, we assign a multidisciplinary core team to every project. Depending on the engagement, a core team includes a senior team member from each discipline necessary for project delivery:
Project Management
Research
Design
Engineering
Following a Proven Strategy
The ability to match technology solutions to the needs of the business and the user should always be the primary goal of any digital product development team. Achieving this goal, however, requires a proven iterative product development strategy and ideally a multidisciplinary core team to work in tandem with that strategy.
At ChaiOne, we employ an iterative product development strategy — called the 5D process — which cycles the product back through the process funnel after deployment for fine tuning.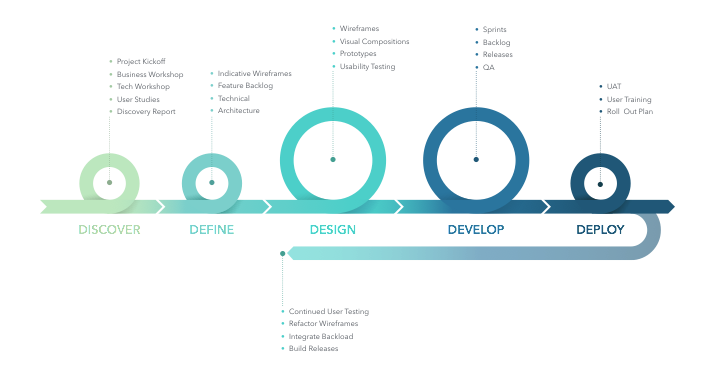 Aside from project managers — who are actively involved in a project from beginning to end — the roles and responsibilities of stakeholders in each of the other disciplines lessens or intensifies across the various stages of this process.
During the discover stage, for instance, researchers, bear the brunt of the load — creating user personas and collecting information on how a client's workforce functions through contextual inquiries. Downstream of the discovery stage of the process, however, the researcher's responsibilities lessen. The same concept in terms of an individual stakeholders is true for designers and engineers at different stages of the process. For instance, a designer will be less involved in the discover stage, and most active in the design stage.
Why we've made the core team a priority
The core team was formed to ensure a high quality product by aligning business, user and technology needs more effectively.
With the core team, we bring a multidisciplinary approach to each project — giving each discipline a voice throughout the product's development cycle. So instead of handing off a project from one discipline to the next in stages, team leadership from all disciplines actively participate in each stage of the project from beginning to end. Not only does this help increase efficiencies both upstream and downstream of the project, it also creates a sense of joint ownership and spurs collaboration among the different disciplines. The result? A greater impact from each discipline on the overall project for a high-quality product that is developed correctly the first time.
With a core team in place, scenarios that could have a negative impact on a project can be avoided. For instance, during the development stage, a research core team member, who is the voice for a client, could get ahead of a requirement being removed by making a strong case for why the requirement needs to stay in — even if it will take more time to engineer the solution. The result? A vital element of the digital product remains, resulting in the product being adopted successfully by the user.
Another example: an engineer core team member communicates a technology solution to a research core team member during the discover process that ultimately influences his research and the requirements for the digital solution. By giving his input, the engineer or solution architect makes an impact during the discover stage — well before he executes his primary duties in the development stage. The result? A cutting-edge technology solution is incorporated into the final solution for the project instead of being overlooked.
Ultimately, by establishing a core team and following a proven process, digital products have a higher chance of success. To find out more about ChaiOne, and how we help clients innovate with custom digital solutions, check out our client success stories.