Travis Fischer
Director of Engineering at ChaiOne
This month's ChaiOne Employee Spotlight is on Travis Fischer, the Director of Engineering at ChaiOne. As the Director of Engineering, Travis oversees all of our engineering activities. He has 20 employees that report to him plus subcontractors and an offshore team. He works on three things: works with the sales team since he is the first technical point of contact for most of the ChaiOne clients, works with projects if issues come up, and then looks at the strategic side of technology - what the new trends are, what we would need to adopt, our policies, and making sure that we are staying focused on the cutting edge.
Here are some of Travis's thoughts on being the ChaiOne Director of Engineering:
Can you describe a typical workday?
I'm an early riser so I'm typically one of the first people in the office and arrive at about 7:30 am. Before anyone else gets into the office, I catch up on email and work on strategic planning. Once people start getting in, I start wandering around and checking in with everybody. I find that the first 30 minutes of the day, when people are getting coffee, is the best time to get a pulse of what is going on in the company. Besides that, I spend most of my time in many meetings. We have higher level planning sessions with the management team, weekly sales meetings, and meetings about resources. In addition, I have meetings with individual projects, developers to help them work through issues, and clients. In sales meetings, I help introduce all the technical stuff. This helps me get a high level view of everything that is going on.
Did you always want to be an engineer? How did you end up in this role?
Yes, I got interested in engineering and computer science when I was six years old. I saw Star Wars when I was six and I decided that I wanted my own R2-D2. Later, I got more interested in robotics after reading an article about MIT Professor, Rodney Brooks and how he was inspired to create COG, a learning robot, after 1992 - the 2001: A Space Odyssey movie's date for HAL 9000's activation - came and went with no HAL. I realized that building robots could be a reality and not stuck in science fiction.
In high school, I interned at NASA and worked on data capture systems for the first version of Robonaut, which was a telepresence robot. I saw it in the Smithsonian last week, which was really freaky to see something I'd been a part of - even tangentially - in a museum. I got my undergrad at Rice in Computer Science, focusing on robotics and AI. I also got my Master's degree focusing on robotics at Georgia Tech. I did a couple more NASA internships working on simulation software, including for R2, the second version of Robonaut. R2 was an autonomous robot where you would give commands and it would do things. It is actually on the space station right now.
After I was done with school, I went to work for Schlumberger and did .NET development for them while I learned iOS development on the side. I founded the NSCoder Night in Houston, a weekly meetup group working on iOS and Mac related things. It helped me meet other people including some people working at ChaiOne. Through NSCoder Night, I was able to get a job at Thomson-Reuters doing .NET development. Around this time, the iPad had just come out and since I had learned iOS development, my boss put me in charge of making an iPad app. I spent two years leading the team on one of Thomson-Reuter's first iPad applications. Later, Thomson-Reuters decided to centralize all its iOS development in their development center in Minnesota, but being a Houston boy born and raised, I wasn't sure I wanted to move. While on paternity leave, I got an email from Ben Scheirman, the original Director of Development at ChaiOne. He was looking for a lead iOS developer and the job let me stay in Houston, so I came to ChaiOne a month later and started on DeliRadio. I've worked on a lot of projects at ChaiOne including DeliRadio, the Methodist Stride4Stroke app, the Dynamo app, and then became the technical lead on a large oil and gas company app suite. Afterwards, I transitioned into the Director of Engineering position.
ChaiOne recently started ChaiLabs. Can you tell me more about it?
ChaiLabs is a chance for us to work on cool, innovative stuff before our clients ask for it. We have a list of ideas that we've wanted to play around with, but haven't had the opportunity to do so. It helps carve out time for people to actually work on stuff. They will work in week sprints to take an idea and see how far it can go in a week. Hopefully, we'll be able to have demos or have something wrapped up and be able to pass onto someone else. Some of the things we created at ChaiLabs may turn into products. It's a great opportunity to have some fun and do something innovative.
How would you describe the ChaiOne Team?
The people at ChaiOne are some of the smartest that I've worked with. The team is a very diverse group. Everyone has a lot of different interests, which leads to interesting conversations on the latest technology, books, movies, or even what they had done over the weekend. There's always something interesting going on here.
What things have you learned so far at ChaiOne that you would tell a new employee?
Be prepared to be flexible. We move around a lot - around different projects and/or physically moving desks in the office. Don't be afraid to speak up or suggest improvements on something. If you need help, don't be afraid to ask. We are all here to help each other out and do something cool. We are all trying to do the best that we can.
What are some of your favorite apps?
Fun Facts About Travis: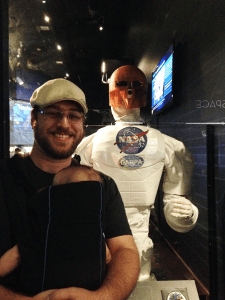 Has something that he created displayed at the Smithsonian (see picture on left)
Has 2 kids
Known as the comics guy in the office
Favorite superheroes - Luke Cage and Cassandra Cain Batgirl
Current favorite comics: The Wicked + The Divine and Velvet
Favorite anime: Ghost in the Shell
His favorite book: Frank Hubert's Dune
Likes to cook and do canning - makes jams, jellies, sauces
Has 2 very fat cats
Born in Baytown - Other than about a year and a half in Georgia, he spent his whole life in Texas.
Place he would most like to visit: Rome
His chin has not seen daylight since: May 24, 2001